There is power in online reviews, especially when you use our reputation builder system. Today I want to cover four SEO benefits of getting online reviews and how they can help your business grow. Most think it is just about getting the 5 stars, but that is only the beginning. What takes place behind the scene can help you exponentially.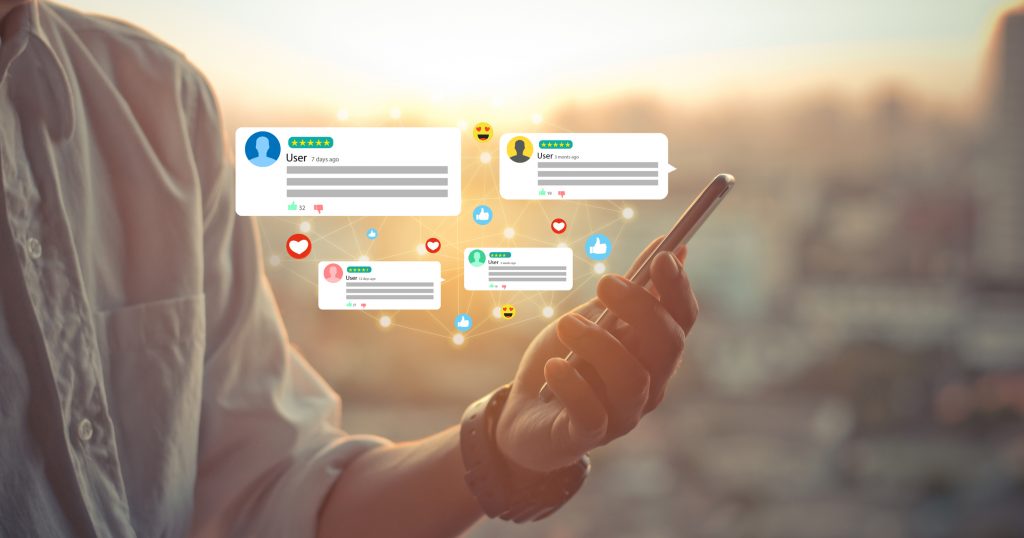 Before we cover the four benefits, I want to define the two different types of reviews we will be covering and why both are important. The two types of reviews we will be discussing are 1st party and 3rd party reviews.
1st party reviews are reviews that are left directly for your business. The review belongs to you and the benefit of these reviews is what we will be focusing on the most in this article. 3rd party reviews are reviews that your customers leave on 3rd party sites like Google, Facebook, Yelp, etc… Obviously Google reviews are huge and are the reviews that most people see when doing a local business search, so I don't want to discredit these. The power in 3rd party reviews is in the verification of your business being legit. People find them trustworthy. They are a must have for your potential customers to see and find validation in your business.
So, the power in the 1st party reviews is overlooked by most. Google is KING, so most don't look much further than that. The power in 1st and 3rd party reviews combined is where the true magic happens. The SEO (Search Engine Optimization) benefits of 1st party reviews is very important to growing your business.
Here are four SEO benefits of getting online reviews:
Unique Content – That you don't even have to write!

Search engines "crawl" your website on a regular basis checking for updates and new content. Having fresh and additional content such as user generated reviews increases the amount of content that is indexed for your Business in the Search Results. For anyone that has been around internet marketing for any length of time I'm sure you have heard the phrase, "Content is King!" In other words the more quality content you have (fresh and updated regularly) the better your chances of potential customers finding you. Your 1st party reviews are fresh content you can pull into your website with the right tools.

Search Engine results for "Your Business Name + Reviews"

Between 80% and 90% of all consumers and potential customers look for local businesses online and rely on reviews before purchasing a product or service. Which means potential customers search for words such as, "ratings, reviews, testimonials" in association with your business name. Not ranking or having results for those searches may mean you are missing out on new customers.

Long Tail Keywords – You may have not thought about yourself

User created reviews often contain powerful long tail targets and keyword phrases. Those consist of three or more words. Having varied content is proven to increase rankings, plus searchers are likely to input those same or similar phrases in locating relevant results. This is where the power of 1st party reviews can really help you. Pulled into your website, 1st party reviews bring the benefits of long tail keywords, 3rd party will not. But both need to be pulled into your website the benefits we discussed earlier in this article.

Google is ranking websites with reviews higher.

Google's ranking algorithm is increasingly looking for Reviews. Currently reviews make up about 7 to 10% of the overall ranking factors consisting of website citations, local information and links. Even at a conservative 7% – No business can afford to miss out on reviews anymore.
As you can see, reviews are very important. How you use those reviews to your advantage to grow your customer base is what separates you from your competition. Are you actively managing your online reviews? Do you understand the power these reviews have for your business?
These are very important questions you need to ask yourself. The four SEO benefits of getting online reviews that we shared above is just the tip of the iceberg. You need to put your reviews to work for you!
If you would like to learn more about our Reputation Builder service, I would love to schedule a time to sit down with you and share what we offer and how it can benefit your local small business.